GIZI MAKRO PADA KUE AMBUNG DENGAN PENAMBAHAN TEPUNG TEMPE DAN TEPUNG DAUN KELOR (Moringa oelifera)
Abstract
ABSTRACT
Gambung cake is one of the traditional snacks made from wheat flour, the inside is filled with jam from a mixture of brown sugar and grated coconut. This cake contains enough energi, but is low in protein. The addition of tempe flour and moringa leaf flour can increase energi and protein content in Gambung cake as a snack food choice for school children in preventing and overcoming nutritional problems in school children. This research is pre-experimental with the design of Post Test Group Design. Addition of tempe flour and moringa leaf flour (1: 1) to Gambung cake successively formula 0 (F0 = 0%); formula 1 (F1 = 2.5%); formula 2 (F2 = 5.0%) and formula 3 (F3 = 7.5%). Energi and protein content are calculated using the List of Food Ingredients. The results showed that F0 Gambung cake contained energi and protein, respectively 366.4 kcal and 5.0%; F1, respectively 376.2 kcal and 5.8%; F2, respectively 386.0 kcal and 6.6%; F3, respectively 495.8 kcal and 7.4%. The energi and protein content of Gambung cake increases with the increasing number of addition of tempe flour and Moringa leaf flour.
Keywords: Gambung, Moringa, Tempe
Keywords
Gambung, Moringa, Tempe
DOI:
https://doi.org/10.32382/mgp.v27i2.1854
Refbacks
There are currently no refbacks.
Copyright (c) 2021 Media Gizi Pangan

This work is licensed under a
Creative Commons Attribution-NonCommercial-NoDerivatives 4.0 International License
.
Published By : Poltekkes Kemenkes Makassar Jurusan Gizi
Office : Jl. Paccerakkang KM. 14 Daya, Makassar, South Sulawesi, 90242  View on Google Maps
Email  :  mediagizipangan@poltekkes-mks.ac.id
INDEXING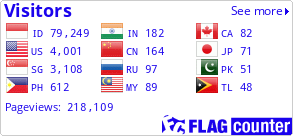 View My Stats