The relationship between nutritional intake and diet with obesity in adolescents
Abstract
The prevalence of obesity in adolescents continues to increase along with the increase in social welfare. This is due to the increasing consumption of energy and instant food. Obesity in adolescents can interfere with learning activities and can continue into adulthood. This study aims to find the relationship between nutritional intake and diet with obesity in adolescents. .
The research location is in SMAN 21 and MAN 3 Makassar because in these schools there are quite high obesity sufferers. The location of the school was chosen purposively. The population is all obese students in the school. The sample is 42 obese students with a BMI of 25 and above and non-obese students who come from both schools and are still actively learning. Data collection of energy and nutrient intake using questionnaires and recall forms for adolescents. Data on weight and height of adolescents were collected using digital scales and microtois. Data analysis with chisquare test.
The results of this study found that there was no relationship between energy and nutrient intake with obesity in adolescents. However, there is a relationship between the frequency of consumption of vegetables, snacks and drinking water with adolescent obesity, with a P value <0.05. This means that obese people need to eat vegetables and drink more water and limit their snacks to lose weight. The research is expected to continue with nutritional care for obese adolescents to lose weight.
Keywords: nutritional intake, diet and adolescent obesity
Referrence : 13 (2012-2020)
References
Atika, P. d. (2017). Peran Ibu Sebagai Edukator dan Konsumsi Sayur Buah Pada Anak. . DOI : 10.2473/amnt.v 1/3.2017.236-242.
Burhan, F., & Indriasari, S. S. (2013). Pola Konsumsi terhadap Kejadian Obesitas sentral pada Pegawai Pemerintahan di Kantor Bupati Jeneponto. Skripsi Prodi Ilmu Gizi FKM Unhas Makassar.
K. R. (2013). Angka Kecukupan Gizi yang Dianjurkan bagi Bangsa. Menteri Kesehatan RI. Jakarta.
Kurdanti, W. I. (2015). Faktor-faktor yang Mempengaruhi Kejadian Obesitas pada Remaja. Jurnal Gizi Klinik Indonesia, Vol. 11 No. 04 April 2015. Hal 179-190.
L.Muniroh, F. d. (2018). Analisis Perubahan Berat badan, IMT dan Persen Lemak Tubuh Klien Pasca Pemberian Diet South Beach My Meal Cathering Surabaya. Doi :1.2473/amnt.v2i1.2018.
Malyani, A. S. (2020). Faktor Penyebab Obesitas pada Remaja Putri Aceh Besar. Jurnal Riset Gizi, Vol 8/1/2020.
RI, K. (2018). Hasil Riset Kesehatan Dasar Tahun 2018. Balibangkes RI Jakarta.
Septiana, p. F. (2018). Konsumsi Junk Food dan Serat pada Remaja Putri Overweight dan Obesitas yang indekos. Jurnal Kedokteran Brawijaya Vol 30 No. 1 Februari 2018. http//jkb.ub.ac.id/index.php.
Sumarni, P. d. (2018). Asupan lemak, Atifitas Fisik dan Kegemukan pada
Remaja Putri di SMP Bina Insani Surabaya. Surabaya: Majalah Gizi Indonesia Vol 13/2/2018, hal 117-122.
Supariasa, B. B. (2017). Penilaian Status Gizi. Jakarta: Ed.2. EGC.
Supariasa, H. d. (2017). Ilmu Gizi, Teori dan Aplikasi. Jakarta: EGC.
Wardhani. (2015). Keterkaitan antar Konsumsi Buah dan Sayuran serta Gaya Hidup dengan Kejadian Kegemukan pada Mahasiswa IPB. Skripsi Prodi Ilmu Gizi Fak Ekologi Manusia IPB Bogor .
DOI:
https://doi.org/10.32382/mgp.v28i2.2485
Refbacks
There are currently no refbacks.
Copyright (c) 2021 Media Gizi Pangan

This work is licensed under a
Creative Commons Attribution-NonCommercial-NoDerivatives 4.0 International License
.
Published By : Poltekkes Kemenkes Makassar Jurusan Gizi
Office : Jl. Paccerakkang KM. 14 Daya, Makassar, South Sulawesi, 90242  View on Google Maps
Email  :  mediagizipangan@poltekkes-mks.ac.id
INDEXING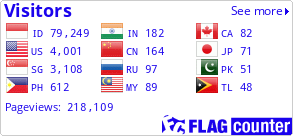 View My Stats