Protein and Calsium and Iron Content on Cheese Stick Substitution of White and Black Anchovy Flour
Abstract
Nutrition problems in Indonesia is a serious health problem one of them is stunting. The efforts to cope with stunting in society is increase the consumption of nutrients, especially protein, calcium and iron. One way is utilize various types of fish. Anchovy is a fish that is easy to get and cheap. The Flour from Anchovy can be madeto be snacks such as cheese stick. This study aims to compare the content of protein, calcium, and iron in Cheese Stick substitution of white anchovy flour (Stelophorus Sp) and black anchovy flour (Engraulis) concentration of 15% and 20%. The results showed that the highest Protein content found in Cheese Stick substitution of white anchovy flour (Stelophorus Sp) concentration of 20%, the highest calcium found in cheese Stick substitution of 20% black  anchovy  flour (engraulis), and highest iron found in cheese substitution of black anchovy flour (engraulis) 20%. It is recommended if you want to use anchovy as a source of protein then the good is white anchovy (Stelophorus sp), and if you want to use as a source of calcium and iron then the good consumed is black anchovy (engraulis).
Keywords
Calsium, Cheese Stick, Engraulis, Iron, Protein, Stelophorus Sp.
DOI:
https://doi.org/10.32382/mgp.v25i2.388
Refbacks
There are currently no refbacks.
Copyright (c) 2019 Media Gizi Pangan

This work is licensed under a
Creative Commons Attribution-NonCommercial-NoDerivatives 4.0 International License
.
Published By : Poltekkes Kemenkes Makassar Jurusan Gizi
Office : Jl. Paccerakkang KM. 14 Daya, Makassar, South Sulawesi, 90242  View on Google Maps
Email  :  mediagizipangan@poltekkes-mks.ac.id
INDEXING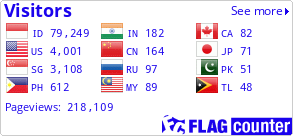 View My Stats