Physical Activity and Dietary Habit With Nutritional Status Teenage Girls in SMPN 16 Makassar
Abstract
The growth of teenage girls optimally depends on the intake with good quality and quantity. Nutrition status is a state determined by the degree of physical demand for energy and nutrients derived from food and also depends on physical activity performed. The purpose of this study is to determine the relationship between physical activity and diet with nutritional status of young women in SMPN 16 Makassar. The method of research is a cross sectional study design with analytic approach. The subject is a student of class VIII counted 84 people. Nutritional status is obtained by weighing and body weight which is then calculated using z-score. The dietary habit is obtained through the Food Frequency Quesionary (FFQ) which is then processed by summing the score of each foodstuff and then compared with the average score of the total score of all subjects. Physical activity is obtained through recall of physical activity processed by using physical activity level formula. The data is presented by graphical and narratives form. The results showed that there was a significant correlation between physical activity and nutritional status of the subjects, indicated by subjects with normal nutritional status of 29 people (34.5%) and 14 people (16.7%) with mild physical activity. Teenagers with normal nutritional status and thin in general medium activity. This study also shows that there is a significant relationship between dietary habit with nutritional status of the subjects, indicated by subjects who have normal nutritional status and low diet is low as many as 22 people (26.2%). Teachers and parents should educate subjects to improve their physical activity, such as doing sport at home and school, and directing them to consume healthy and nutritious food as recommended by their youth.
Keywords
Dietary habit, nutritional status, physical activity, teenage girls
DOI:
https://doi.org/10.32382/mgp.v26i2.423
Refbacks
There are currently no refbacks.
Copyright (c) 2019 Media Gizi Pangan

This work is licensed under a
Creative Commons Attribution-NonCommercial-NoDerivatives 4.0 International License
.
Published By : Poltekkes Kemenkes Makassar Jurusan Gizi
Office : Jl. Paccerakkang KM. 14 Daya, Makassar, South Sulawesi, 90242  View on Google Maps
Email  :  mediagizipangan@poltekkes-mks.ac.id
INDEXING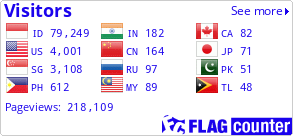 View My Stats