Edukasi Gizi terhadap Pengetahuan dan Kebiasaan Jajan pada Siswa SMP Negeri 35 Makassar
Abstract
One effort to increase knowledge is to educate health about nutrition especially. Nutrition education is essentially an activity to deliver a health message to a community or group in the hope of influencing the behavior of the target. The habit of snacking is part of the action-shaped behavior that becomes a pattern of the behavior of a person or group that tends to be difficult to change. This study aims to determine the effect of nutritional education on knowledge and habits of jajan at students of SMP Negeri 35 Makassar. The type of research is pre experimental study with one group pre-test and post-test design. The location of the research was conducted at SMP Negeri 35 Makassar. Samples are students of class VIII of 100 students obtained by simple random sampling. The study was conducted on April 8 - April 22, 2017. The results are presented in tabular and narrative form. Based on the results of research conducted at SMP Negeri 35 Makassar shows that the knowledge of students before given less than 58% of good nutrition education and good (42%) using Wilcoxon statistical test obtained value (p=0,000) which means there is influence of education Nutrition to knowledge in students. In the habit of snack before given nutrition education that is as much (63%) and good as much (37%), using Wilcoxon statistic test obtained value (p=0,372) which means there is no effect of nutritional education to snack habits on students. Nutrition education with reverse sheet media shows there is an influence on knowledge but there is no effect on the snack habits.
 Keywords: Knowledge, Nutrition Education, Pocket Habits
References
Adriani, M dan Wirjatmadi, 2012. Peranan Gizi dalam Siklus Kehidupan. Kencana Prenadamedia, Jakarta.
Balibangkes Depkes RI, 2013. Hasil Riset Kesehatan Dasar Tahun 2013.
Candra AA, Setiawan B, Damanik HM. (2013). Pengaruh Pemberian Makanan Jajanan Pada Siswa Sekolah Dasar. Jurnal Gizi dan Pangan. Volume 8 (2)
journal.ipb.ac.id/index.php/jgizipangan/article/viewFile/.../5949
Fauzi, CA, 2012. Analisis Pengetahuan dan Perilaku Gizi Seimbang Menurut Pesan ke 6, 10, 11 dan 12 Pedoman Umum Gizi Seimbang pada Remaja. Journal Kes. Reproduksi, Vol 3 No. 2, Agustus 2012, 91-105
Febianty F. 2009. Hubungan Kebiasaan Jajan, Karakteristik Anak Serta Karakteristik Orang Tua dengan Status Gizi Anak Sekolah Di SDN Rawajati 03 Pagi Jakarta Selatan. FKM UI. Jakarta; Universitas Indonesia.
Hatta (2014). Asupan Energi dan Protein Siswa SMP Negeri 35 Makassar. KTI Jurusan Gizi.Politeknik Kesehatan Makassar.
Hendrayati, 2010. Pengetahuan Gizi, Pola Makan dan Status Siswa SMPN 4 Tompobulu Bantaeng. Media Gizi Pangan, Vol. IX, Ed 1 Jan-Jun 2010
Judarwanto W. (2004). Perilaku Makan Anak Sekolah. [Online]. Available:http//www.gizi.net/makalah/download/perilaku%20makan%20anak%20sekolah. Df[Diakses 4 September 2016]. Picky Eaters Clinic.
Khomsan A. (2004). Pangan dan Gizi Untuk Kesehatan. Jakarta; PT. Raja
Grafindo Persada.
Mudjajanto ES. (2005). Keamanan Makanan Jajanan Tradisional. [Online]107Available:http://www.gizi.net/cgibin/berita/fullnews.cgi?n
ewsid1108963004,1393[Accessed on September 3, 2016].
Nurhasanah A, Sofyan NS, Resnayati Y. (2014). Pengaruh Pendidikan Gizi Terhadap Peningkatan Pengetahuan, Sikap dan Perilaku Tentang Jajanan Sehat Pada Murid Sekolah Dasar. Skripsi. Jurusan Keperawatan Poltekkes Kemenkes Jakarta III.
ejurnal.poltekkesjakarta3.ac.id/index.php/JKEP/article/view/.../36
Nuryanto, Pramono A, Puruhita N, dkk. (2014). Pengaruh Pendidikan Gizi Terhadap Pengetahuan Dan Sikap Tentang Gizi Anak Sekolah Dasar. Jurnal Gizi Indonesia. Volume 3(1).
Putra AE. (2009). Gambaran Kebiasaan Jajan Siswa Di Sekolah Dasar Hj.Isriati Semarang. Artikel penelitian. Universitas Diponegoro Semarang.
Rina. (2007). Persepsi Orang Tua dan Guru Terhadap Keamanan Pangan Jajanan Anak Sekolah Dasar di Kota Bogor. Skripsi. Institut Pertanian Bogor.
Salmiah, Siti Nur Rochimiwati, Ramlan Asbar dan Nurliya Amir, 2015. Gambaran Remaja Obesitas tentang Pengetahuan Pola Menu Seimbang di SMPB 30 Makassar. Media Gizi Pangan, Vol. XIX, Ed 1, 2015
Saputri LO, Kristiawati, Krisnana I. (2012). Peningkatan Pengetahuan dan Sikap Dalam Pemilihan Jajanan Sehat Menggunakan edukasi gizi di sekolah dasar. Skripsi. Fakultas Keperawatan Universitas Airlangga Kampus C Mulyorejo Surabaya 60115
DOI:
https://doi.org/10.32382/mgp.v25i1.65
Refbacks
There are currently no refbacks.
Copyright (c) 2018 Media Gizi Pangan

This work is licensed under a
Creative Commons Attribution-NonCommercial-NoDerivatives 4.0 International License
.
Published By : Poltekkes Kemenkes Makassar Jurusan Gizi
Office : Jl. Paccerakkang KM. 14 Daya, Makassar, South Sulawesi, 90242  View on Google Maps
Email  :  mediagizipangan@poltekkes-mks.ac.id
INDEXING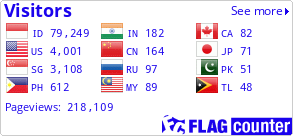 View My Stats