KARAKTERISTIK FISIK, DAYA TERIMA DAN KEAMANAN BUBUR INSTAN DENGAN PENAMBAHAN TEPUNG DAUN KELOR (Moringa oleifera) SEBAGAI MAKANAN PENDAMPING ASI BAYI UMUR 6-12 BULAN
Abstract
Abstract
Factors of complementary feeding received by infants in the first 6-12 months after exclusive breastfeeding can affect the incidence of stunting and wasting. Infants aged six months and above need complementary foods that are rich in nutrition, meet physical requirements, are acceptable to babies and are safe for consumption. The purpose of this study is to produce an instant powder formula with the addition of Moringa leaf flour as breast milk for infants 6-12 months that meets physical characteristics and is favored by infants and is safe for consumption. The design of the complete randomized design study, optimization of instant powder formula as food for breastfeeding is done by linear programming method one factor 3 replications. The treatment formulation in 100 g of material, namely moringa leaf flour successively 0, 3, 4 and 5 g; brown rice flour 64, 62, 61 and 60 g respectively; and soybean flour 20, 19, 19, 19 g respectively; each formula plus 10 g of full cream milk flour, 5 g of refined sugar and 1 g of vegetable oil. The results showed that instant powder with the addition of moringa leaf flour as supplementary milk for infants 6-12 months generally met the requirements of Physical Characteristics based on kamba density (0.63 g / ml) and water absorption ratio (0.7). Panelist acceptance was significantly different (p = 0,000). Panelists prefer instant porridge with the addition of 3% Moringa leaf flour based on taste aspects, but based on the color, aroma and texture of the panelists can accept the addition of 5% Moringa leaf flour. In general, complementary feeding powder meets physical requirements and water absorption ratio, and is safe for consumption.
Kata Kunci : Bubur instan, Kelor, Bayi
Keywords
Bubur instan, Kelor, Bayi
DOI:
https://doi.org/10.32382/mgp.v27i1.1519
Refbacks
There are currently no refbacks.
Copyright (c) 2020 Media Gizi Pangan

This work is licensed under a
Creative Commons Attribution-NonCommercial-NoDerivatives 4.0 International License
.
Published By : Poltekkes Kemenkes Makassar Jurusan Gizi
Office : Jl. Paccerakkang KM. 14 Daya, Makassar, South Sulawesi, 90242  View on Google Maps
Email  :  mediagizipangan@poltekkes-mks.ac.id
INDEXING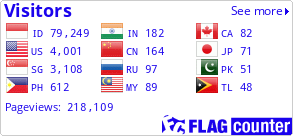 View My Stats