DAYA TERIMA DAN KANDUNGAN SERAT BAKSO IKAN DENGAN SUBSTITUSI PISANG KEPOK
Abstract
Bakso is a food that is very popular among Indonesian people from children, teenagers to adults because it has a delicious taste and is easy to find. Fish balls are round foods made from tapioca flour and snapper. Fish meatballs with kepok banana substitution are an alternative product that is high in fiber nutritional value and does not leave the unique taste of fish balls. This study aims to determine the acceptability and fiber content of fish balls with kepok banana substitution. This research is a pre- experimental research. Fiber content was tested using the gravimetric method. Data and results are presented in the form of tables and narratives. The results of the acceptability test from the aspect of color, texture and taste in the most preferred 40 gram banana kepok fish ball substitution. The most preferred aroma aspect is fish ball substitution with banana kepok 30 grams. The results of the fiber content test showed that there was an increase in fiber content of 14.97% in the 50 gram substitution compared to fish balls without kepok banana substitution. It is recommended that further research can analyze the content of other nutrients and acceptance to the target, namely obese adolescents.
Keywords
Fish Meatballs, Acceptance, Fiber, Banana Kepok
References
Arini, D. A. (2018) 'Kombinas Tepung Tapioka Dengan Pati sagu Terhadap Mutu Bakso Jantung Pisang dan Ikan patin', e- conversion - Proposal for a Cluster of Excellence.
Hastuti, P. (2019) Genetika Obesitas. Yogyakarta: Gadjah Mada University Press
Imelda, M., Wulansari, A. dan Sari, L. (2018) 'Perbanyakan Pisang Kepok Tahan Penyakit Darah Melalui Proliferasi Tunas', Jurnal Bioteknologi & Biosains Indonesia (JBBI).
Kiptiah Mariatul , Nuryati , Raden Rizki Amalia, Maida Hayat (2019), Substitusi Tepung Pisang Kepok Dalam Pembuatan Produk Soes Kering Pisang Kepok.Jurnal Teknologi Agro-Industri Volume 6,No.2: November 2019
Kiptiah Mariatul , Nina Hairiyah,Ayu Nurmalasari, Pengaruh Substitusi Tepung Kulit Pisang Kepok (Musa Paradisiaca L) terhadap Kadar Serat dan Daya Terima Cookies. Jurnal Teknologi Agro-Industri Volume 5,No.2: November 2018
Maryoto, A. (2019) Manfaat Serat Bagi Tubuh. Jawa tengah: ALPRIN.
Mas udah, N. alif, Fathimah dan Pibriyanti, K. (2021) 'Pengaruh Substitusi Tepung Tulang Ikan Tongkol ( euthynnus affini ) Terhadap Bakso Gedebog Pisang Kepok ( musa acuminate balbissiana colla )'.
Nugroho, H. C., Amalia, U. dan Rianingsih, K. (2019) 'Karakteristik fisiko kimia bakso ikan rucah dengan penambahan transglutaminase pada konsentrasi yang berbeda', Jurnal Ilmu dan Teknologi Perikanan.
Prihaningtyas, R. A., Irwanto dan Widjaja, N.A. (2018) Anak Obesitas. Jakarta: Gramedia.
Riskesdas (2018) 'Hasil Utama Riset Kesehatan Dasar', Kementrian Kesehatan Republik Indonesia, pp. 1–100. doi: 1 Desember 2013.
Rizqiya, F. dan Syafiq, A. (2019) 'Asupan Serat Sebagai Faktor Dominan Obesitas Perempuan Pralansia', Jurnal Manajemen Kesehatan Yayasan RS.Dr. Soetomo.
Rohana, M. L., Berhimpon, S. dan Palenewen, J. V (2016) 'Keberadaan Mikroba Pada Bakso Ikan Asap Cair, Yang Dikemas Dalam Retortable Pouch, Dipasteurisasi Dan Disimpan Pada Temperatur Ruang', Media Teknologi Hasil Perikanan.
Septiana, P., N, F. A. dan W, C. S. (2018) 'Konsumsi Junk food dan Serat pada Remaja Putri Overweight dan Obesitas yang Indekos Junk food and Fiber Consumption among Overweight and Obese Young Women Living in Boarding House', Kedokteran Brawijaya.
Wulandari, S., Lestari, H. dan Fachlevy, A.F. (2016) 'faktor yang berhubungan dengan kejadian obesitas pada remaja Di SMA Negeri 4.
DOI:
https://doi.org/10.32382/mgp.v29i1.2809
Refbacks
There are currently no refbacks.
Copyright (c) 2022 Media Gizi Pangan

This work is licensed under a
Creative Commons Attribution-NonCommercial-NoDerivatives 4.0 International License
.
Published By : Poltekkes Kemenkes Makassar Jurusan Gizi
Office : Jl. Paccerakkang KM. 14 Daya, Makassar, South Sulawesi, 90242  View on Google Maps
Email  :  mediagizipangan@poltekkes-mks.ac.id
INDEXING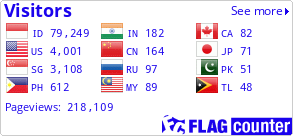 View My Stats